Post by Flameshadow on Feb 9, 2014 3:01:33 GMT
Full Name: Jamie Starflame
Codename: Flameshadow
Team affiliation : Solo for now
Age 25
Hero/Villain/Neutral: Heroine
Place of birth: Unknown
City/Base of Operations: New York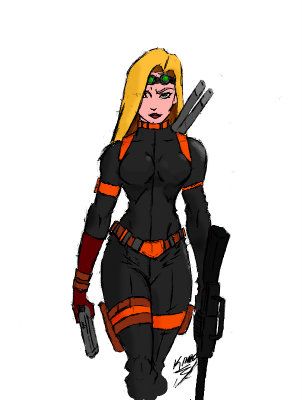 Weight: 160
Height: 6'2
Hair color/length/style: shoulder length and Blonde
skin color/complexion: White
scars/tattoos/identifying marks:
No bellybutton and the number "00133" on her back
Family
Father: Dr. Darren Black(father)
Mother: Leyu Yoshida(generic mother)
Siblings: N/A
Micheal Starflame<handler/big Brother
00124 Water <dead>
00125 Earth <dead>
00126 Wind <dead>
& seven failed Flameshadows<dead>
Children: none
Character Personality:
She is actually a very kind person who is willing to help anyone who needs her to. She believes in redemption no matter who the person is. She is very protective over her family and friends and will die for them if they are in any kind of danger. She can however can get really upset if someone was harm anyone in front her. Jamie doesn't like it when people try to get to talk about her past and most likely yell at them for it or just simply avoid the question by talking about something different entirely. Jamie's favorite food is just about anything sweet or sour and she loves seafood the most.
When not doing her job she can be find relaxing with a good book, in which her favorites are horror and fiction stories. Jamie doesn't know how to show her emotions well while in peril she will probably will not accept help because she doesn't want to put the another person in danger because she feels that if they die it would be her fault. She has the belief one should never give up no matter how hard things get and she does follow that and tries to teach that to others if they manage to doubt in themselves. Jamie's temperament will sometimes flare out of control if a villain or someone manages to piss her off belong her boiling point she will cover her forearms in flame, but if notices she is about attack a friend she will start singing a old show theme song because her way of trying to calm herself because she fears if she gets too angry bad things will happen or someone close to her most calm her down.
Powers/Weaknesses/Talents
[/b]
Powers:
Pyrokenisis : She can control an create fire with the flick of her wrist and she can fired it up to about twenty feet.
Fire immunity: Fire and heat can't harm her at all she can step into burning building without hurting herself
Slowed aging: Her body ages very slowly due to how she was born causing her to look ten years younger then she actually is
Peak human Strength : She can lift twice her own weight
Weaknesses:
Water : this won't kill but it will cause her powers not to work right if she manages to get Wet she can touch the water but it will weaken her powers
Normal human weakness: This means that if she is stabbed , shot, or poisoned, she will die like everyone else.
Oxygen: She can't use her powers if there is no air in area and she has to be able to breathe
Uncontrollable rage: If she is angered enough she will lose all reason and morph into humanoid flame monster and mostly be a danger to everyone around her it will take someone really close to her to calm her down if she hurts anyone when like this she will going into extreme depression
Skills:
Swordsmanship: She is very good with a sword enough to actually kill someone if she needs to. But she rarely kills anyone unless its
necessarily. She is able to dual weld and is very good with it. She can use swords such as the Katana and Boardswords she isn't yet a master in this but she is advance in it where she make quick movements. She doesn't own a broadsword but she knows how to use one.
Martial arts: She is pretty skilled martial artist she was trained how to fighting where she lived from all those but only one of the many ones is Karate in which she is Black Belt in.
Firearms: she trained how to use these in combat but she doesn't like to use them she prefers to use her swords and she considers anyone who uses a firearm a coward even though she herself knows how to use one.
Singing: she was thought how to sing by Michael as away to calm her nerves she is actually pretty good at enough where people hire her to work for entertainment
Weapons and mission or battle equipment:
Her goggles: They have optical sensor that scans for anything possibly dangerous in there area like poison gas or search for anyone trapped under something. They are made of metal and have green lens as seen above in the picture. They were given to her by Michael.
Hover board: This is how she flies around the city it its long surfboard like object expect shorter .
Two katanas: This is the type of sword she carries, they are just basic katanas which will sometimes put fire through but she is actually careful how much heat she puts into them
History:
The history about this girl dates backs about fifty years ago when the project known as Element started for this type of super solider, it took CADMUS years to actually get right. After a few failures and many deaths they manage to finally create living being to be came to be known as Flameshadow. The scientist in charge of the operation was a man known as Darren Black. He brought to life their first elemental soldier and called her Flameshadow. He got the DNA from woman known as Leyu Yoshida a Sunfire from a Pocket dimension, which he then combined with some of his own DNA, which he used to forum her inside the tube. Dr. Black manage also get a hold of the SSS that had created Captain America, and decided to use in hopes of finally getting some results of survive of his project which it did. When she was first born as a child the serum made her pretty aggressive when angered like she would throw tantrums when she didn't get her way getting and destroy stuff and just about killed Dr Black himself by almost burning him alive. When she finally snapped out she was found crying next to burnt body of her father the government realized that her how dangerous her anger could they decided to place her back into her capsule for bit and continued some more test until she was stable enough to control. When she became big enough she was then allowed out, and CADMUS began training her to be a weapon. The people at the place were not all that kind to her at all they treated her horrible almost like she was not human.
As for the other projects they didn't survive the training, their bodies quickly disposed of without any care or sympathy. What happened to her when she was lab was they would lock her up in a room by herself and gave very little human contact. They would also talk about her as if she was not even there thinking she does not understand what they were talking about, but Jamie, regardless of this, still manage to handle this kind of bullying because she had at least one person who treated her like a person, which actually kept her from going crazy. This person name was Michael Starflame and he was her handler felt she needed to treated with respect the project he treated her, as she was his little sister and give her name Jamie Starflame.
Michael was the only person that was close as family to her, so she called him her brother. The people from the government decided they were getting to close so they sent her brother away to continue her training "without interruptions", as they put it.. Jamie decided it couldn't take the torment and staged a rampage in which she actually kill one of the people who was newly assigned to her, and with the help of Micheal who got back into the compound and helped her escaped from her captivity, shortly after he himself killed his own suppiors. When he found out she actually killed someone while escaped her made her promise that she will never go that far again, which she agreed and they got out together. The time stayed with him she had to go into hiding for a while in which she stayed with him for a while for at least ten years after that she decided to decided wanted to help people as heroine because she felt if she had these powers why not use they to something good.
OUT OF CHARACTER
Name on Chat board:deathstaker
Time RPing online/experience: 10
How did you learn of this site: admin
Other characters you play: none yet